In Grozny, state employees were driven to a rally against the burning of the Koran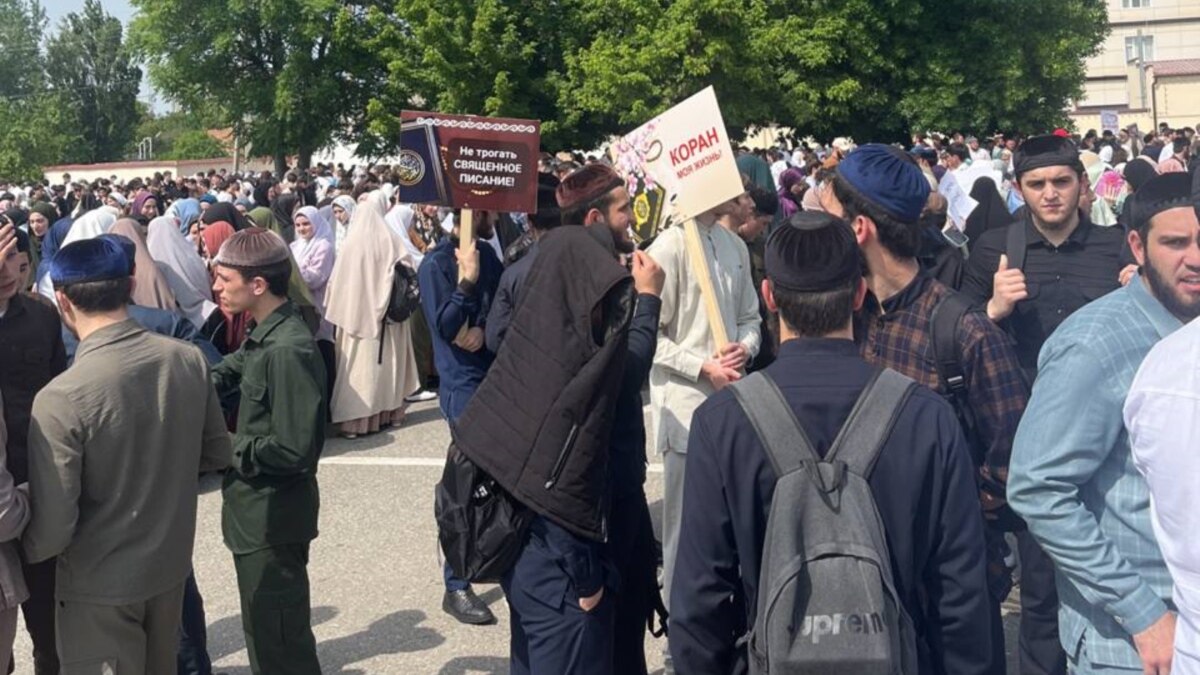 In Chechnya, students and employees of budget organizations were herded to a rally against the Koran-burning action in Volgograd. This was reported to Kavkaz.Realia by several residents of the city. A video of the burning of a book sacred to Muslims in front of a mosque in Volgograd appeared on social networks on May 19.
The rally in Grozny began in the afternoon of May 23 on the square near the House of Press. Actions with "insulting the feelings of believers" in Russia are financed by Ukrainian and Western special services, said Magomed Daudov, speaker of the Chechen parliament. He did not provide any evidence for this.
Those gathered held portraits of Ramzan Kadyrov and posters with the inscriptions "Don't touch the holy scripture!", "My religion is my life" and others. In total, according to the Chechen authorities, 60 thousand people participated in the rally. There are no independent assessments of these data.
In an interview with the website Kavkaz.Realii, a student of one of Grozny's higher education institutions said that in the morning they announced that "it is necessary to come to the House of Press by two o'clock." An employee of one of the ministries noted in a conversation with the editors that his colleagues did not understand what the rally they were supposed to attend was about.
Schools throughout Chechnya, as well as institutions of additional education, received orders. They had to send several people each (screenshots of the mailings are at the disposal of the Kavkaz.Realii editorial office).
Also, on the morning of May 23, thousands of believers gathered at the "Heart of Chechnya" mosque to protest against the burning of the Koran, local mass media reported.
The accused in the case of insulting the feelings of believers is 19-year-old Nikita Zhuravel from Volograd. He faces up to three years in prison. On Monday, a court in Volgograd arrested him for two months – until July 20. During the meeting, Zhuravel, as noted, apologized to the Muslims and called his concession "very bad".
According to the investigation, Zhuravel burned the holy book of Muslims while he was in the area of ​​the Cathedral Mosque in Volgograd. The words of the accused are given that he did it on the instructions of the Ukrainian special services for a reward of 10 thousand rubles. In addition, Zhuravel allegedly told that he was engaged in video shooting of military objects. Kyiv's reaction to these statements was not given.
The head of the Investigative Committee of Russia, Alexander Bastrykin, ordered to hand over the case of the burning of the Koran in the Volgograd region to investigators from Chechnya. The reason for this is allegedly "numerous appeals from residents of the Chechen Republic with a request to recognize them as victims."
More news from Radio Liberty: