is Recovery from FUIB: payment from the state, recovery bonus and cashback from the bank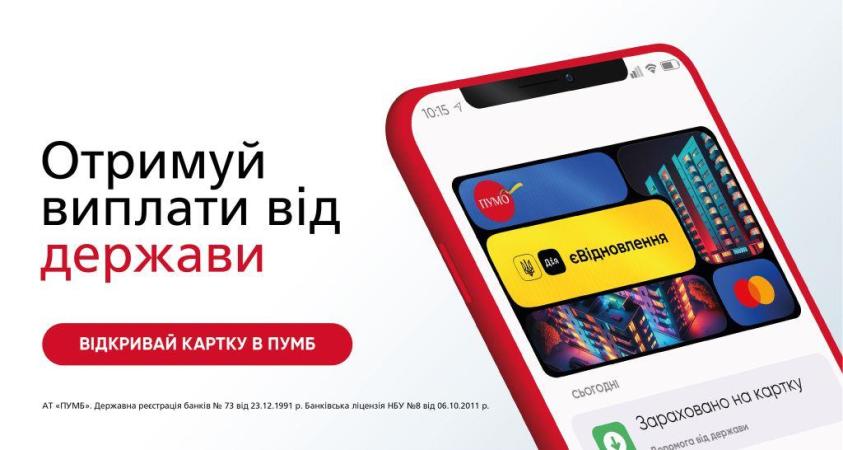 Open the еRenovation card in FUIB Online — get financial aid from the state, and from the bank a bonus for restoration and cashback for goods for construction and repair immediately after the payment is received.
2
FUIB joined the project isRenovation – a state program of assistance for housing damaged as a result of hostilities, which was not repaired earlier and is subject to restoration. Citizens of Ukraine — property owners — have the right to this payment. The received funds can be used to repair housing.
To take part in the program isRecovery you need:
Submit an application. This can be done on the portal or in the Diya application. If the application was submitted earlier, it is not necessary to do it again
Open the map and Recovery in the PUMB Online application. You can also open a card when submitting an application in the Diya application
Submit an application for cash assistance under the program "Recovery" in the action application. It is necessary to select the option of receiving payments to the card from FUIB
We will wait for the results of the inspection of the damaged property by the commission, which will record the damage and determine the amount of assistance. After verification, the decision will be entered in the Register
Receive confirmation and funds to the card is Recovery from FUIB
Holders of the eRecovery card from FUIB are guaranteed to receive:
bonus in the amount of UAH 500, which can be withdrawn to the card after crediting the payment from the state
The cashback category is Recovery + 2% on construction and repair goods
This category of cashback can be selected within 3 months after receiving a payment from the state. The maximum amount of cashback is UAH 500 per month, a cashback tax of 19.5% is withheld.
The terms of the program areRecovery:
funds are provided for the purchase of goods and services exclusively in non-cash form
to pay with a card. Recovery is possible only for certain categories of goods. Detailed information on the program website
Top-up, transfers, cash withdrawals and payment of other categories of goods are not possible with this card
it is possible to spend funds in several payments at different service providers
issuing and servicing the card is free of charge
decisions on payments, regardless of the form of the application, are made by special commissions created by the executive bodies of local councils, military or military-civilian administrations
funds must be used within 12 months from the date of receipt. After that, the remaining funds will be automatically returned to the budget.
Source: Ministry of Finance
Views: 7