Reuters learned about G7 plans to tighten sanctions against exports to Russia and energy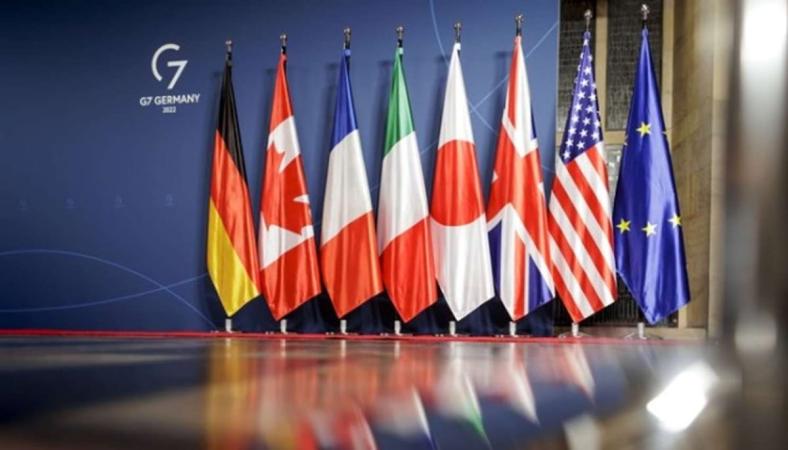 The leaders of the G7 countries plan to tighten sanctions against Russia at the summit in Japan, which will be held at the end of this week, Reuters reports with reference to interlocutors familiar with the progress of discussions on possible solutions.
0
► Read the Telegram channel "Ministry of Finance": the main financial news
What is known
The USA expects that G7 members will change their approach to sanctions on exports to Russia: exports in some categories should be completely banned, and then certain goods will be excluded from it, agency sources said.
Among the new measures that may be announced at the end of the summit: the fight with Russia's help from third countries in circumventing sanctions, measures against the energy sector and new restrictions on export trade, the sources of the agency said.
The USA proposes to use the principle of "first we prohibit, and then we make exceptions" for export restrictions, at least for certain categories of goods.
Read: G7 countries increased financial assistance to Ukraine to $44 billion
Previously, the administration of US President Joe Biden canceled the G7 sanctions approach: it allows the sale of goods to Russia that are not included in black lists.
The Allies then did not agree to the changes, but now the United States expects that their approach will be applied to exports that are sensitive to the Russian defense industry.
The specific areas where the rule — export prohibited, if it is not included in the special list — will be applied are still being discussed.
A Reuters source among American officials said that the changes in the approach will be noticeable "in several areas, especially those related to Russia's defense and industrial base."
According to him, the proposed "change in presumption" has "significance for the long-term trajectory of where we are moving and the restrictive nature of the general regime."
Western countries began to introduce sanctions and export control measures after the start of Russia's war in Ukraine.
The exact wording of the joint declared leaders of the G7 will be made public during the summit in Japan on May 19-21. The G7 includes the United States, Japan, Canada, France, Germany, Italy and Great Britain. Some U.S. allies opposed the idea of ​​a broad trade ban followed by exemptions for each category.
Conference "Invest Talk Summit" Find out how to make money on investments in 2023-2024! Details on the website.
Promo code for a 10% discount: minfin10.
🕵️ We created a small survey to learn more about our readers.
💛💙 Your answers will help us become the best, pay more attention to topics that are interesting to you. 🤗 We will be grateful if you find a minute to answer our questions.
Source: Ministry of Finance
Views: 21