RoboForex analyst: the GDP-warrant rate of Ukraine resumed growth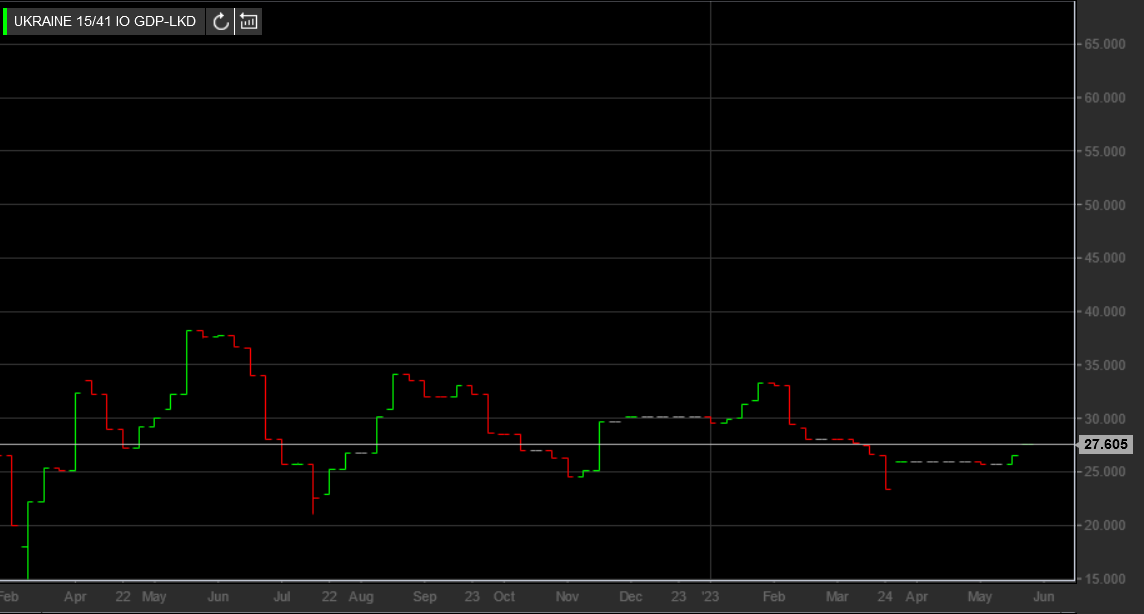 Since the very morning of Monday, the rate of GDP-warrants of Ukraine continues to grow, reaching a mark of 27.60% of the nominal value. The analyst reminds that these bonds were issued by our country 8 years ago and payments on them are "tied" to GDP growth rates. It is not surprising that investors in the armed conflict are very pessimistic about the possibility of its increase. However, the drop in GDP at the end of 2022 turned out to be significantly less than the initial forecasts, which gives reason to expect recovery growth this year. Nevertheless, many questions remain for the Cabinet, which on the eve of the military invasion actively bought GDP warrants from the market to the detriment of Ukraine's interests. This was reported by Andrey Goilov, RoboForex analyst.
The monthly dynamics of Ukraine's exports is presented in the diagram below.
Rate of GDP-warrants of Ukraine (%). Source: teletrader.com.
Before the beginning of the military confrontation, the fair price of these securities, according to JPMorgan analysts, was at the level of 130.00%. Depending on the outcome of the conflict, this forecast may be revised. Based on the current dynamics of quotations, the value of these securities may increase by up to 30.00%. It is worth noting that the volume of trading in GDP warrants is extremely small – large institutional players do not show interest in them. Probably, after the end of hostilities, the Cabinet of Ministers will buy back warrants in the interests of international partners. Since the payments on them with a high probability will not be long enough yet.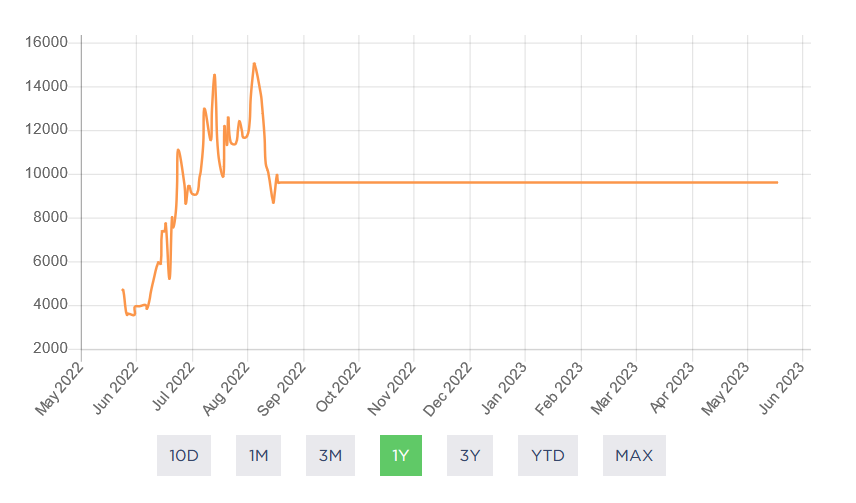 Credit-default swaps of Ukraine CDS (b. p.). Source: dragon-capital.com
After the first and currently the only round of negotiations between the delegations of Ukraine and the Russian Federation in Belarus, the quotes of our country's CDS credit-default swaps (a financial instrument for insurance against the default of the bond issuer) began to decrease. The graph shows their "collapse" to 64.39%. After the successes of the Armed Forces of Ukraine in the Kharkiv region and near Kherson, the mood of investors improved significantly. The current values ​​of the CDS exchange rates have long been higher than the record highs of 2015, when the ORDLO was active in hostilities and the Ukrainian delegation was negotiating the restructuring of the country's external debt. As a result, since the middle of August last year, the schedule has been practically static.
On the cash foreign exchange market, the hryvnia against the US dollar strengthened below the level of 37.60, and the euro reached the level of 40.80. Problems with the export of agricultural products only aggravate the situation, as the revenue in foreign currencies decreases.
Source: Ministry of Finance
Views: 6