The Fin Blogger Award gathers the country's most famous investors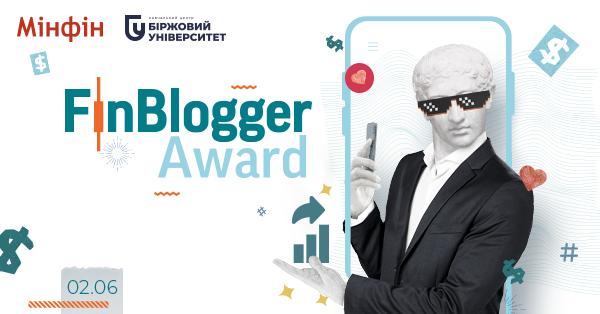 The Ministry of Finance and the Exchange University invite everyone who is interested in investments to the Fin Blogger Award ceremony, which will be held on June 2 in Kyiv at Unit.City (Dorohozhitskaya Street 3).
This is the first professional award in Ukraine for bloggers who develop the culture of investing in the country. This year, 33 financial experts in 6 nominations are taking part in the fight for the title of the best.
The program of the event includes performances by guest speakers and a panel discussion with the winners at the end. Financial experts and opinion leaders will share their investment experience and tell:
how they managed to make money on securities in 2022;
what trends dominate the stock market in 2023;
how to invest in a crisis and without a stable income;
what instrument to choose for investing now.
These will be Myroslav Korol, Pavel Boyko, Yulia Batkalova, Ksenia Gubanova, Dmytro Karpilovsky, Mikhail Patsan, Pavel Koreva, Philip Oleinyk and others.
During the event, the winners of the Fin Blogger Award 2023 will be officially announced in the following nominations: "Best YouTube channel", "Best expert Instagram", "Best Telegram channel about investments", "The most influential investment influencer", "Development of financial literacy of children Future leader financial blogging".
The highlight of the evening will be the performance of Evgeny Khmara, the most famous pianist-virtuoso of Ukraine. At the end, networking, new acquaintances, and a buffet are waiting for everyone. Such measures give an incredible charge of energy, new ideas and initiatives.
Anyone can attend the award ceremony and get to know the opinion leaders in the financial niche in person.
The price of a ticket to the award ceremony is UAH 500. All the money will go to a social project to develop children's financial education — a financial literacy summer camp. 15% discount on tickets with promo code: Minfin15
You can buy a ticket for the grand event at the link.
Source: Ministry of Finance
Views: 17