The Ministry of Internal Affairs did not find extremism in Simonyan's words about the nuclear explosion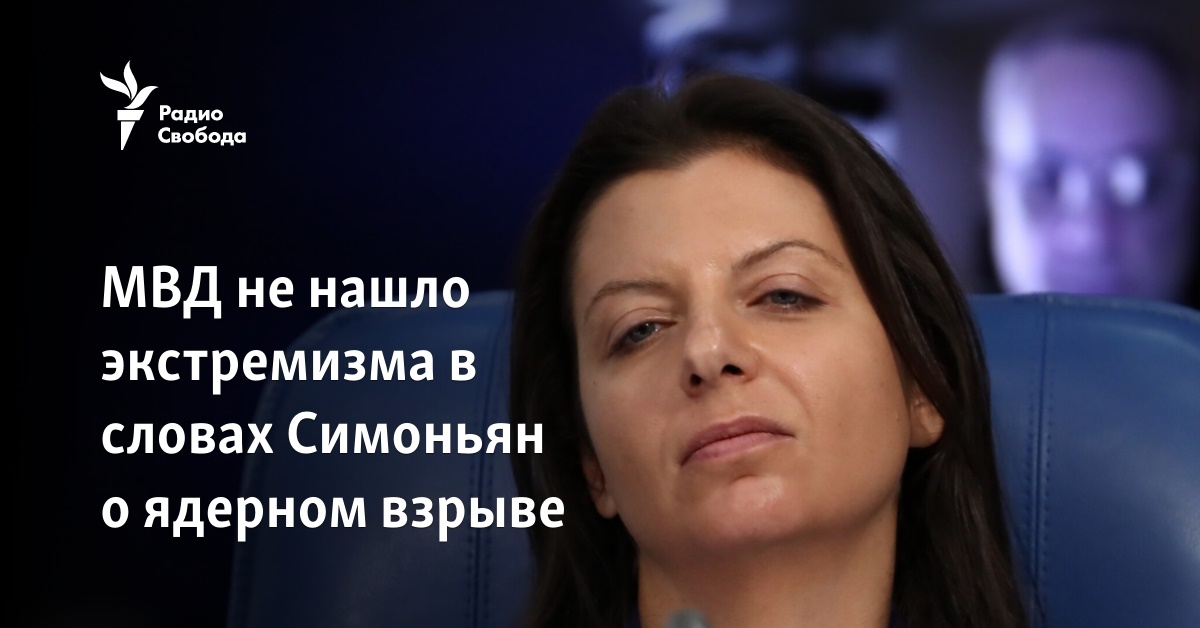 Russian law enforcement agencies did not find violations of the law in the arguments of the editor-in-chief of the state TV channel Russia Today, Margarita Simonyan, about the possibility of a nuclear explosion over Siberia. This is stated in the response of the Ministry of Internal Affairs to the request of the deputy of the Moscow City Duma Evgeny Stupin.
"There was no basis for responding in accordance with the federal law "On countering extremist activity", – said the document, a copy of which Stupin published on his Telegram channel.
"Of course, it's not anti-war price tags in a store," the deputy wrote in a comment, referring to the sentence to artist Sasha Skochylenko for an anti-war action. She replaced the price tags in the store with stickers with information about the number of victims of the war in Ukraine and appeals to stop it. On November 16, a court in St. Petersburg sentenced Skochylenko to 7 years in prison and found him guilty of spreading so-called fakes about the army.
In October 2023, Margarita Simonyan in the author's program "Ch.T.D." on the air of RT came up with the idea of ​​making a nuclear explosion on Russian territory – as she put it, "somewhere over Siberia". Thus, according to Simonyan, the "collective West" will be punished, with which, according to the editor-in-chief of RT, Russia is at war. At the same time, the population of the Earth will not suffer physically. "This option is still the most humane. I don't see any outcome other than approximately this one, whether I like it or not," Simonyan summarized.
After these public apologies, Maria Prusakova, a member of the State Duma from the Altai Territory, demanded a public apology from Simonyan, saying that the Siberians took her words "as a deep insult." The mayor of Novosibirsk, Anatoly Lokot, a physicist by education, said that a nuclear explosion over the territory of Siberia would result in consequences that local residents would feel for hundreds of years.
Simonyan filed a complaint against the Moscow City Duma Deputy Stupin's assistant to the SC for slander against her and threatened her critics with articles about false denunciation. Soon after that, the Russian mass media apologized to Simonyan for reporting her statement about the detonation of a nuclear bomb over Siberia.