Ukraine is preparing for possible Russian attacks on the energy system: Yaroslav Demchenkov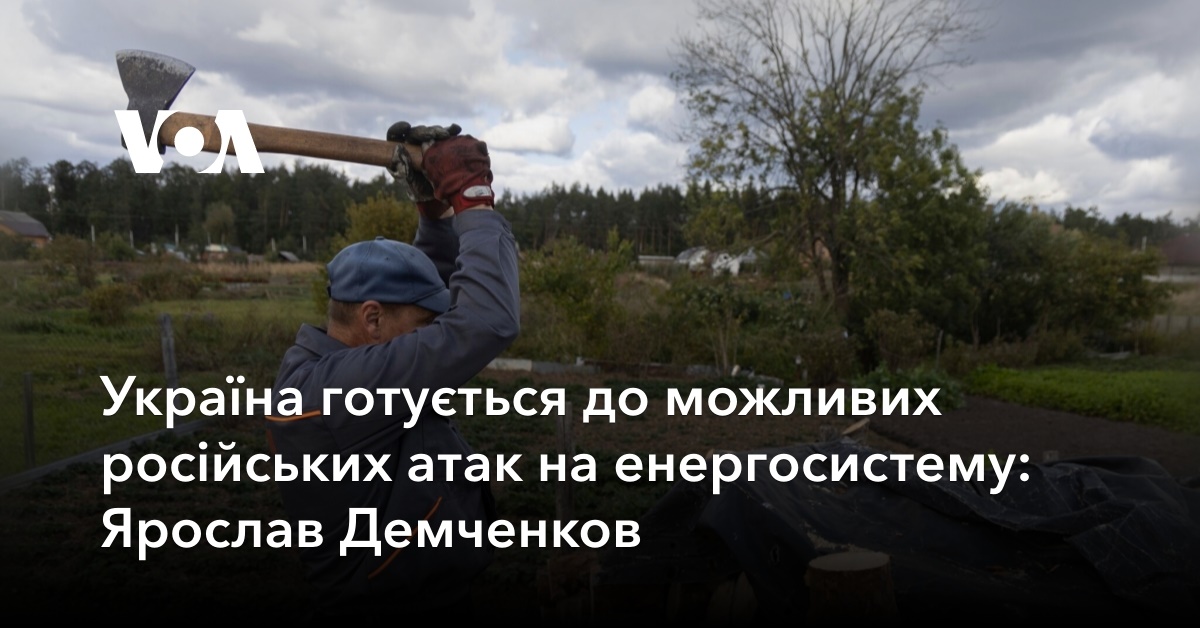 Ukraine is preparing for the second winter since the full-scale invasion. Yulia Yarmolenko and Ostap Yarysh, hosts of the Voice of America Briefing program, spoke with the Deputy Minister of Energy of Ukraine, Yaroslav Demchenkov, about how preparations for the heating season are proceeding.
The interview has been edited for clarity and flow.
GA: How do you assess Ukraine's level of preparation for winter and Russia's potential attempts to strike energy infrastructure facilities? Are the protected objects of the Ukrainian energy infrastructure better protected now than last year?
Y.D.: The system is stable and now works stably. The generating capacity, gas and coal we have is enough to get us through this heating season. The electricity currently produced by Ukrainian power plants is fully sufficient to meet the needs of both private households and the country's economy.
If temporary power outages are recorded somewhere in Ukraine, then this happens exclusively in front-line areas due to shelling by Russian troops or due to technological disruption or due to weather conditions. But the system works quite stably.
The renovation campaign we have carried out is unprecedented
I am sure that we will pass this heating season without any problems, if – there is one if – there are no such massive targeted attacks on the facilities of generation and transmission of electric energy and gas pipelines, as was the case a year ago and at the beginning of this year.
The renovation campaign we have carried out is unprecedented. Let me remind you that a year ago on October 10, and then in November and later, hundreds of missiles and drones were directed at energy infrastructure facilities. Dozens were hit.
Only on October 10, 101 missiles and drones were directed at energy infrastructure facilities and 20 facilities were damaged.
On October 31, 88 different types of missiles and drones were directed specifically at energy facilities and 15 facilities were destroyed or damaged.
At that time, only anti-aircraft defense saved us from large-scale destruction.
Now air defense is at a better level than it was. Therefore, we expect shelling, but we also hope that the defense will be at the appropriate level. Last year, they focused their attacks on generation facilities, thermal and hydroelectric power stations, as well as on the Ukrenergo system, networks and large substations.
We know that Russian forces consulted Russian energy experts. They knew where our systems were most vulnerable. Will they do it this winter? Probably so. Did we defend better? So. We made a protection system this summer. Did we increase air defense? Yes, we have increased air defense. Are we ready for mass shelling? We are always ready for anything.
We have enough resilience today to withstand these attacks. Today, we are doing our best at our locations to minimize any blackouts, blackouts, as was the case last winter, in the event of shelling. And the Minister of Energy Herman Galushchenko is responsible for energy supply and its restoration. He regularly simulates the situation together with energy companies, together with intelligence units in order to optimize the system and carry out repairs very quickly.
GA: Last year, in fact, for the first time, a massive attack against the energy infrastructure lasted the whole winter. Analysts say that the system needs repair, and help and equipment are not arriving as quickly as they would like. Does this mean there will be more challenges this winter, given that the power system was already hit last year?
Y.D.: The peace system is now stable and we are prepared for this winter. We cannot predict what the attacks will be: last time 150 missiles at the same time or there will be more, we cannot predict how effective the air defense system will be.
If there will be no shelling or they will be inaccurate and the air defense system will work and the system of multi-vector protection of energy facilities, which we also built, will work, then we will be able to get through this heating season on our own generation, with our own coal and gas. If there are hits, we have developed various protocols for the relevant dispatch teams, we have a sufficient number of repair packages and the system will work. But in case of hits, in certain regions, there may certainly be problems with supply.
Even now, artillery, drones, and rockets are being fired at the contact line. We have these problems, but repair teams leave, they repair, where there is an opportunity to repair, repair works are carried out immediately.
GA: What does Ukraine need from its partners right now to help the energy system?
Y.D.: Regarding the help of international partners. We should now be talking about the United States, which is one of our key partners. It was very pleasant to hear news from senators and officials that aid to Ukraine continues. The Minister of Energy of Ukraine, Herman Galushchenko, has an extremely high level of cooperation with his colleague, the US Secretary of Energy, Jennifer Grenholm. He communicates with the heads of the State Department, and, of course, with the US Ambassador to Ukraine Bridget Brink, who personally pays extraordinary attention to the issues of stability and security of the energy system.
We have information about the needs of energy companies, about needs in the regions, and we immediately check this information and transfer the priority list to our international partners
We at the Ministry of Energy receive all the information that appears very promptly. We have information about the needs of energy companies, about the needs of the regions, and we immediately check this information and transfer the priority list to our international partners, in particular thanks to the platform with the participation of the former US ambassador to Ukraine, and now US assistant secretary of state Jeffrey Payette. This is the mechanism of the coordination platform of all donors on the basis of the State Department and G7+.
GA: Do you receive uninterrupted assistance on the list you send to the United States? Are you satisfied with the level of cooperation with the USA?
Y.D.: Yes, we recently signed a memorandum during the visit of the President of Ukraine Volodymyr Zelenskyi to the United States and received additional aid for 522 million dollars. And this aid goes specifically to the energy sector.
In order to get transformers, generators. The United States installed a gas turbine. I can say more. This is a long-term comprehensive work with the United States. For example, our synchronization with ENTSO-E (European Network of Electricity Transmission System Operators) would not have happened if the United States had not provided timely consulting and technical assistance to the operator of the Ministry of Energy of Ukraine.
We have extraordinary opportunities to be in an integrated European system. An extremely effective energy security project of the United States, implemented in Ukraine by USAID. This large-scale project, which procures a lot of equipment for energy companies, heating and communal energy companies that work in many regions.
Energy security of Ukraine is the energy security of the entire European continent
This assistance is regular and we are now expecting another contribution to our energy fund, which was created at the Energy Community secretariat in Vienna, from the United States of 25 million dollars, which will be additional to the 300 million that we have and this is extraordinary assistance.
We hope that no changes in the political establishment of the United States will reduce attention to energy security in Ukraine, because the energy security of Ukraine is the energy security of the entire European continent. We are so interconnected and it is extremely important to keep the Ukrainian system stable and to have effective reserves for quick repairs.