In Ukraine, a vessel of a sanctioned Russian oligarch worth almost 1 billion was arrested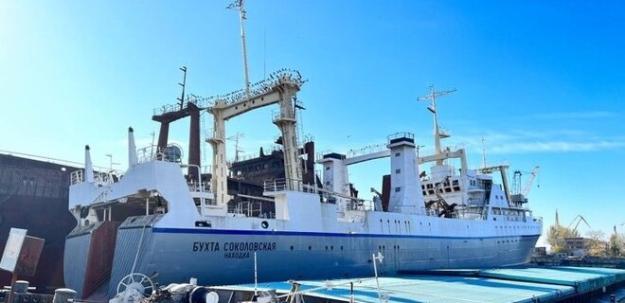 The court based on the materials of the Security Service of Ukraine imposed an arrest on the fishing trawler "Bukhta Sokolovskaya", belonging to the holding of the sanctioned Russian oligarch Alexander Verkhovsky. The cost of the industrial vessel is about UAH 1 billion, the SBU press service reports.
Photo: ARMA 0
► Read the "Ministry of Finance" page on Facebook: главные финансовые новости
It has been established that Verkhovsky is part of the Kremlin's closest blockade and is one of the largest financial "donors" of the war against Ukraine.
The Russian businessman's fishing allows him to regularly transfer billions of dollars to the Russian budget.
The arrested trawler is part of the oligarch's trading "fleet".
Even before the full-scale invasion, the Russian trawler was being completed at the shipyard in Nikolaev.
Read also: SBU seized 144 million worth of Novinsky gas company
Circumvention of sanctions
To circumvent the sanctions, the beneficial owner of the vessel registered it with one of the controlled companies in the Primorsky Krai of Russia.
However, SBU officers exposed the deal and blocked the Russian trawler.
The ship was transferred to the management of the National Agency of Ukraine for Identification, Search and Management of Assets Obtained from Corruption and Other Criminals (ARMA).
Complex measures were carried out by SBU officers in the Mykolaiv region under the procedural guidance of the regional prosecutor's office.
Source: Ministry of Finance
Views: 16