In Yekaterinburg, the father of a child with SMA went on a picket to the prosecutor's office building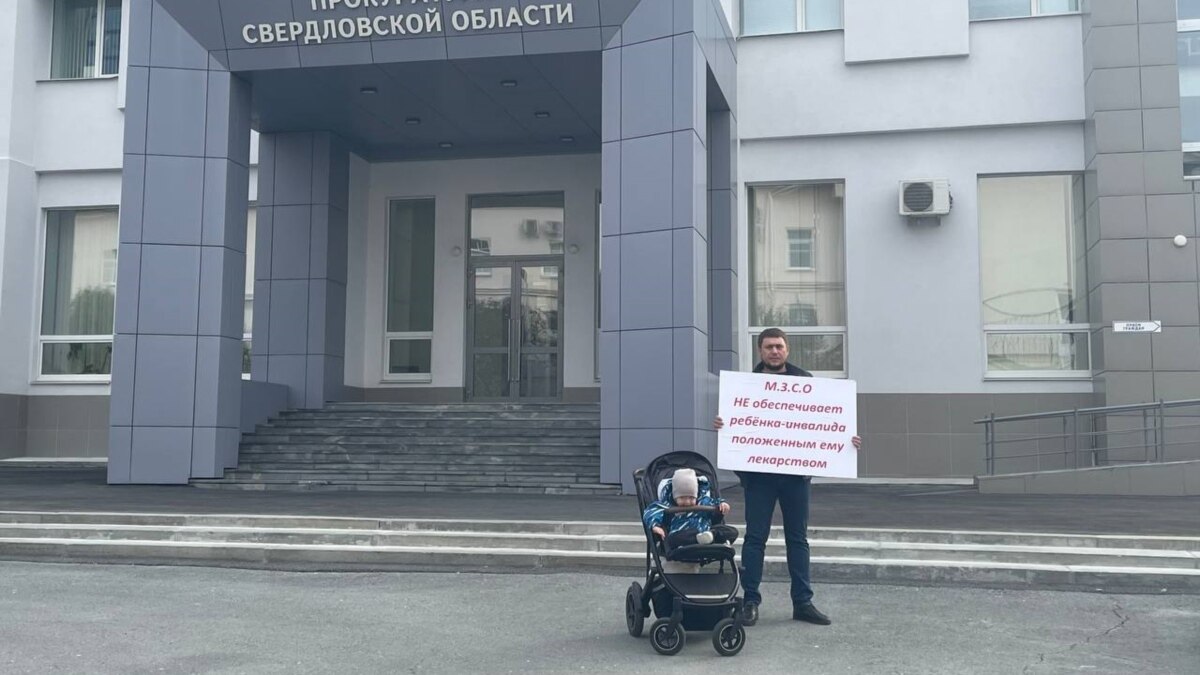 In Yekaterinburg, the father of a child suffering from spinal muscular atrophy went on a picket to the building of the prosecutor's office of the Sverdlovsk region. Dmytro Bakhtin demands that his son be given medication from SMA "Rysdymplam".
Earlier, Bakhtin went on a single picket on Red Square in Moscow, where he was detained, but later released without a report.
For more than two years, Dmitriy Bakhtin has been seeking from the Ministry of Health of the Sverdlovsk Region to provide his three-year-old son with medicines from the Medical Academy. Despite the fact that last year the court decided to provide the child with the drug "Spinraza", the agency did not issue the medicine to the family. For about a year, the family buys the second expensive drug "Rysdiplam" for the second child on the doctor's prescription, which is paid for by charitable funds. According to the boy's parents, the treatment benefited him.
Now the family is trying to get the Ministry of Health to provide the child with "Rysdiplam", however, a council of doctors from three federal centers refused to recommend this treatment.
Earlier, chief freelance geneticist of the Ministry of Health of Russia, Sergey Kutsev, stated that the use of "Rysdiplam" after the second drug, "Zolgensmy", may be dangerous. "Zolgensmoi" treatment did not help the child. "There is no scientific data on the benefits and safety of such therapy," Kutsev said.
In an interview with Radio Svoboda, Dmitry Bakhtin claimed that during the examination at the Veltyshchev Institute of Pediatrics and Children's Surgery in Moscow, the boy did not have any adverse effects from Rysdiplam treatment. According to him, doctors recorded only positive dynamics.
"What should a child do when therapy has already been prescribed, when the child has already been receiving therapy for more than a year? What should a child do when there is no data on drug cancellation? This is very important. If they want to write a cancellation, let them write it. But not a single doctor can solve it," – Bakhtin told E1.RU during the picket.
Yulia Lypinskaya, a family lawyer, also commented on Kutsev's statement. "The chief geneticist did not examine the child himself, in my opinion, on his part, he spoke incorrectly to Misha Bakhtin, because he did not see the child himself, he did not do research, he does not know what indicators improved, what actually happened when he took "Rysdiplam". It's just a circus, it's mockery of a child," Lypinskaya told E1.RU.
In August 2022, a criminal case of negligence was initiated against the Regional Children's Clinical Hospital in Yekaterinburg, which refused to treat Dmitry Bakhtin's son with Spinrazoy. Since then, there has been no noticeable progress in this case, no charges have been brought against anyone.
After Dmytro Bakhtin's individual pickets on Red Square and at the Government House, SKR head Alexander Bastrykin instructed Anatoly Nadbitov, head of the SC of the Sverdlovsk region, to "report on the reasons for the red tape and the prospects for completing the investigation."