RoboForex analyst: rates of Ukrainian Eurobonds are decreasing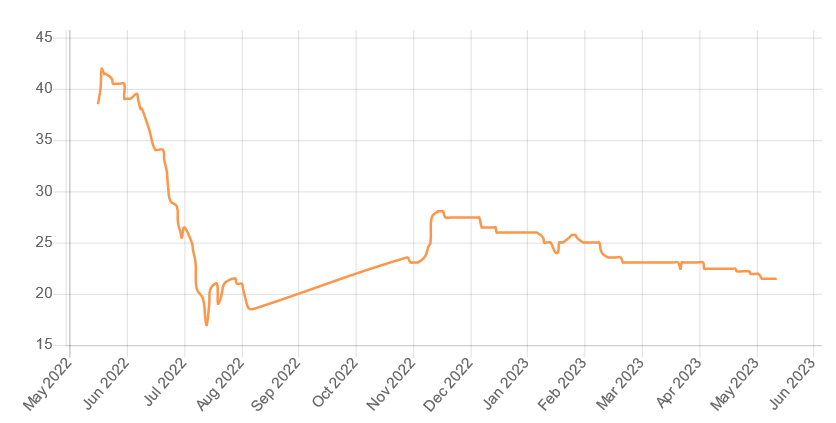 Ukrainian Eurobonds remain under the influence of the traditional combination of global sentiment on the markets of developing countries and domestic Ukrainian factors. At the same time, the volume of trading in Ukrainian securities remains quite low, although Eurobonds of Ukraine were not particularly popular before. A similar scenario was expected, since the country's key energy facilities were seriously damaged during the protracted military conflict. Industrial growth is impossible without a full-fledged infrastructure providing energy generation and distribution. An energy deficit is also expected in the upcoming winter, which will lead to a guaranteed economic recession. Additional risks also appeared in connection with the ban on the import of Ukrainian agricultural products to a number of Eastern European countries. This was reported by Andrey Goilov, RoboForex analyst.
The rate of Eurobonds of Ukraine maturing in 2024 as of 05/15/2023 (%). Source: dragon-capital.com
The value of Eurobonds renewed the historical minimum, falling to 17.00% of the face value. At the moment, the profitability of these securities still remains at the "junk" mark of about 21.50%. The analyst believes that in 2024 the maturity dates for government bonds will be revised again, as the probability of a significant improvement in the economic situation by this time is very low. Ukraine, as now, will need to reduce the "debt burden" on the state budget.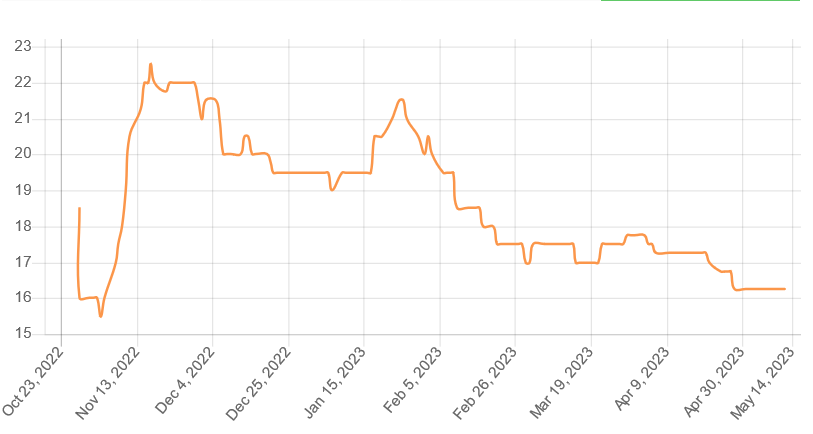 The rate of Eurobonds of Ukraine maturing in 2035 as of 05/15/2023 (%). Source: dragon-capital.com
Eurobonds maturing in 2035 fell to 16.25%. This value was closer to the minimum level of 15.50%. Investors seriously doubt that Ukraine will pay these bonds on time. Holders of Eurobonds are ready to sell them for almost nothing. Unfortunately, many more difficulties have to be overcome in order to restore the confidence of investors.
On the cash foreign exchange market, the hryvnia against the US dollar was fixed below the level of 37.90, and the euro reached the level of 40.80. Problems with the export of agricultural products only aggravate the situation, as the revenue in foreign currencies decreases. According to preliminary estimates of the Ministry of Economy, losses from restrictions on the import of Ukrainian agricultural products exceeded the mark of 120 million US dollars.
Source: Ministry of Finance
Views: 19