The first review of Ukraine's program with the IMF starts today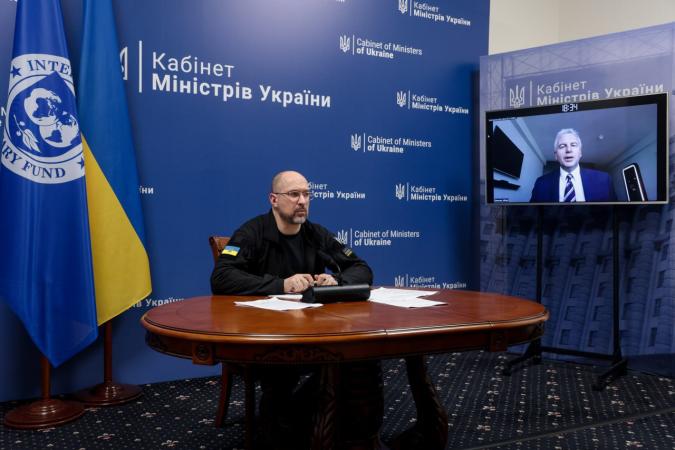 On May 23, the mission of the International Monetary Fund for the first review of the four-year program with Ukraine in the amount of $15.6 billion will begin its work. Prime Minister Denys Shmyhal announced this.
0
►Read "Ministry of Finance" on Instagram: the main news about investments and finances
Viewing the program
The mission will start work in Vienna. We are talking about the expanded financing program approved in March, under which Ukraine will receive $15.5 billion from the fund over 4 years. The first tranche of $2.7 billion arrived in early April.
In addition, in a conversation with the Director of the European Department of the IMF, Alfred Kammer, the Ukrainian Prime Minister discussed the Fund's assistance in the European integration of Ukraine and post-war recovery.
Read: The IMF plans to conduct the first review of the program for Ukraine in May
Shmygal reminded that work is underway to create an International Compensation Mechanism to direct the confiscated Russian assets to the restoration of Ukraine.
"We are counting on the support of the IMF in this direction, as well as further assistance in consolidating financial support from partners from all over the world," Shmyhal added.
Let's remind
Earlier, the Ministry of Finance wrote that the IMF planned frequent reviews of the Extended Financing Program of Ukraine (EFF): one in the summer and one in the fall.
In March 2023, the Board of Directors of the International Monetary Fund approved a new four-year extended financing program for Ukraine in the amount of $15.6 billion. The first tranche in the amount of $2.7 billion was received by Ukraine immediately after the approval of the program.
Conference "Invest Talk Summit" Find out how to make money on investments in 2023-2024! Details on the website.
10% discount promo code: minfin10.
🕵️ We created a small poll to get to know our readers better.
💛💙 Your answers will help us become the best, pay more attention to topics that are interesting to you. 🤗 We will be grateful if you find a minute to answer our questions.
Source: Ministry of Finance
Views: 8