The artist Skochylenko spoke in court with the last word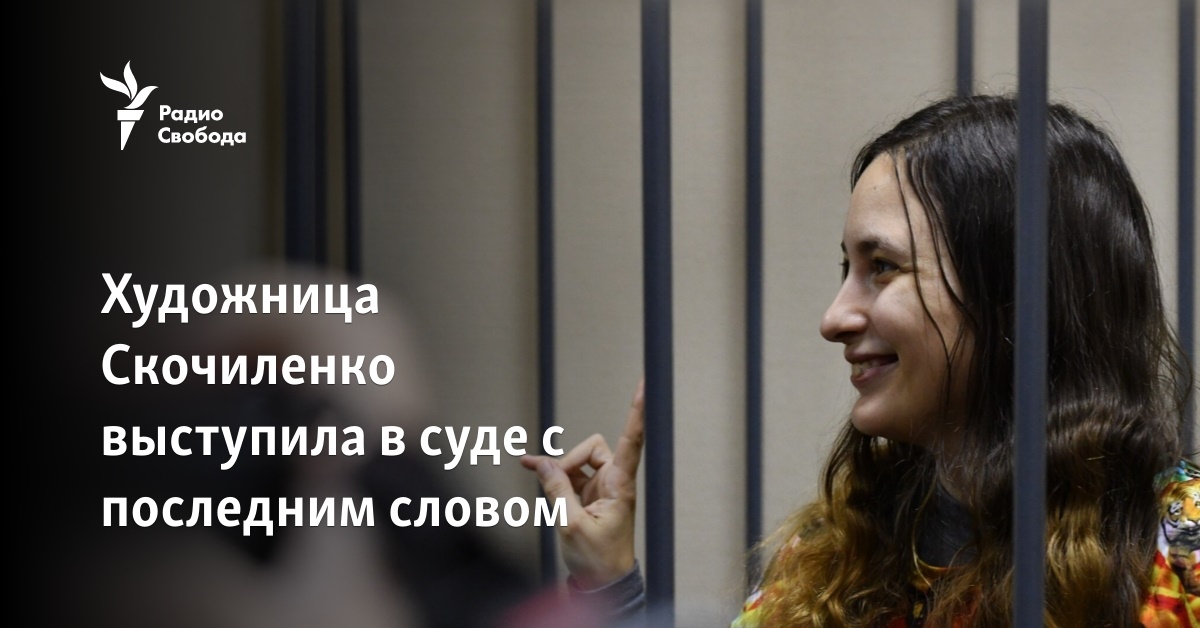 The artist Sasha Skochylenko, whom the prosecution is asking to be sentenced to eight years in prison in the case of anti-war stickers in stores, spoke on Tuesday in the Vasileostrovsky court of St. Petersburg. The full text of her speech was published in the Telegram channel supporting Skochylenko.
Skochylenko called her case "strange and funny", noting that even the supporters of the war whom she met do not think that she deserves a prison term. According to her, the investigator who conducted the case resigned. "He left my case, which promised him brilliant career growth and already brought a star to his shoulder. He left the Investigative Committee and went to work at the Voentorg store. I respect his actions immensely, and I deserve a prison term for my actions," she said. an artist We are talking about investigator Proskuryakov, who conducted the case, but did not sign the indictment.
She also noted that because of her actions – she replaced the price tags in the "Perekrestok" store in St. Petersburg with anti-war stickers – no one was hurt. She also noted that "she was not a hypocrite, she was honest with herself and before the court, she acted in accordance with her moral guidelines." Skochylenko called herself a pacifist and, addressing the judge, said that with an acquittal she could "set an example for everyone – an example of how a conflict can be resolved with the help of words, love, mercy, compassion, and not with the help of coercion to the so-called truth through criminal term".
Artist and activist Sasha Skochylenko has been in a pre-trial detention center since April last year. She is accused of spreading fakes about the Russian army. The reason was that in the "Perekrestok" store, Skochylenko pasted stickers on the price tags with information about the shelling of the Mariupol drama theater by the Russian military and the deaths of civilians. The artist acknowledged the fact of distributing the stickers, but stated that the information on them is not false, and therefore she does not consider herself guilty. More details about the case – in Sever.Realii material.
To prove Skochylenko's guilt, the investigation turned to two experts – linguist Anastasia Hryshanina and political scientist with "philological, legal and political education" Olha Safonova to conduct a linguistic conclusion. But in the examination there were not only linguistic conclusions, but also psycholinguistic ones, although the investigation experts did not have such competence. Prosecution experts stated that there are motives of political hatred in the price tags, and the Armed Forces of the Russian Federation, in their opinion, are recognized as a social group. The philologist Svetlana Drugoveyko-Dolzhanskaya retained her position at St. Petersburg State University for criticizing this examination.
Prosecutors changed three times in the case.
The Skochylenko case is being heard in the Vasileostrovsky District Court of St. Petersburg. As Mediazon reports, at the nineteenth hearing, which took place on October 11, the accused cried for the first time: because Judge Demyasheva and prosecutor Gladyshev did not allow her to change the batteries in the heart monitor at first (the artist has a heart defect), and then they refused her to eat.
The day before, judge Oksana Demyasheva left the courtroom because, in her opinion, the audience applauded the defendant's lawyer too loudly. The judge first required those present to leave the hall, and then postponed the hearing to November 14. The report of "Sota" notes that the applause that prevented Demyasheva was heard after Skochylenko's lawyer Yana Nepovinnova stated in her speech that this court was an "examination of humanity" and the judge "got a chance to pass it."